150th Anniversary Celebration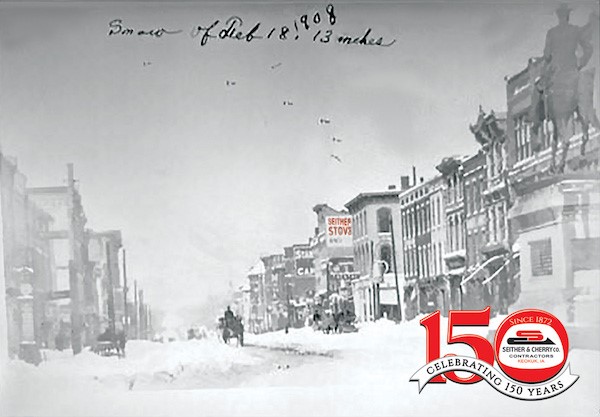 Seither & Cherry Co. celebrated their 150th Anniversary in 2022. They celebrated with a large, outdoor party on the Keokuk riverfront.
Pictured above is a photo of the Seither & Stove company (the previous name of Seither & Cherry Co. when the company also sold appliances) on a very snowy day when the city of Keokuk, Iowa received 13 inches of snow on February 18, 1908.
A History of Leading the Way in Safety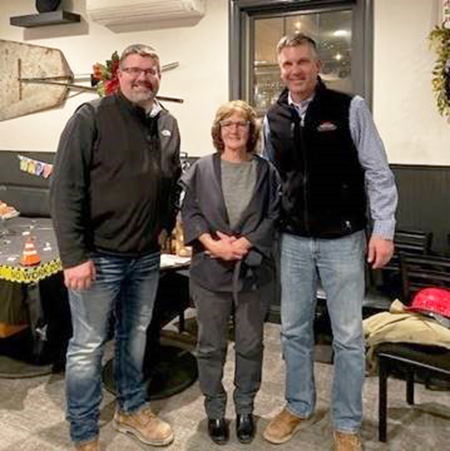 One part of Seither & Cherry Co.'s history the company is particularly proud of is its long-standing commitment to the safety of its employees. Seither & Cherry Co. was one of the first companies in the area to have a comprehensive safety program led by a full-time employee dedicated to this effort. Teresa Vice started out in the field in 1996 and was brought in to create safety standards and plans. She taught and led safety efforts at the company for 23 years. Teresa is pictured above with owners Paul Schulte and Chris Azinger at her retirement in 2019.

Today, two full-time safety professionals lead the charge to make sure the number one goal of Seither & Cherry Co. is realized…to get every employee home safely. Tina Diedrickson and Tyler Scott currently head up this effort working diligently to come up with safe ways to do projects, perform safety audits and much more.
A Flood Provides a Chance to Help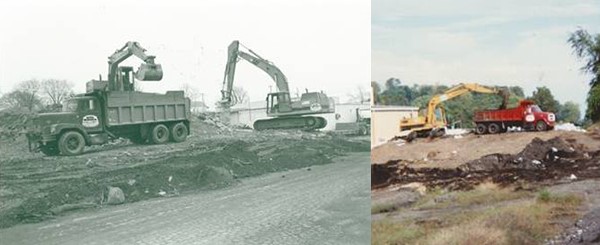 During the flood of 1993, Seither & Cherry Co. was asked by the LaGrange Foundry to help keep their plant from flooding. The plant was located on the Mississippi River in LaGrange, Missouri. Seither & Cherry Co. was more than willing to help. 
We brought in lots of equipment and manpower to build a levee around the facility. We also ran pumps to keep out the seep water. This job was manned 24/7, and we were able to keep the plant running and dry. Bill Bergman, one of the owners at that time, said during our 150th year party last month that this was one of the moments he was most proud of during his time at Seither & Cherry Co.
Moving Into Our New Building
When we say Seither & Cherry Co. has deep roots in the community, we mean it. The company moved to its current location at 2537 Henkel Avenue in Keokuk, Iowa in 1978.
The grand opening of the current location was held in the fall of 1979. Pictured in front of the building at the grand opening are the office employees and two company owners. Seither & Cherry Co. currently has about 20 office employees and up to 150 employees in the field.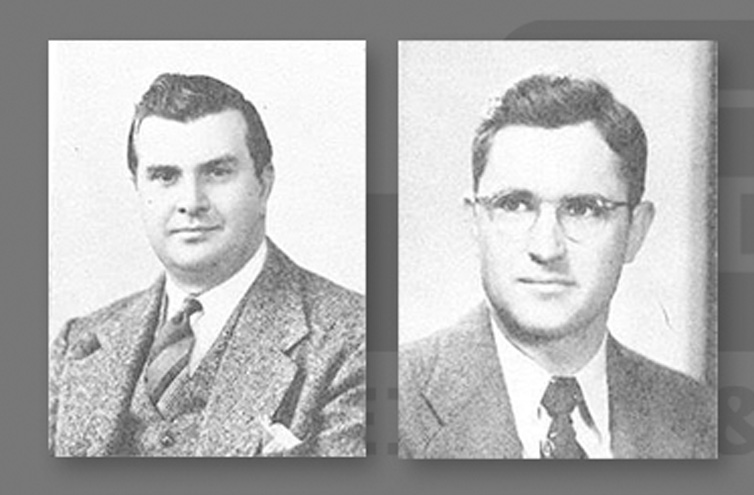 When the Seither family decided to sell in 1948, they didn't have to look far for new owners. Local businessmen, John Marion and Will Davis purchased the company and ran the business until 1975. Will Davis then entered into politics and was a two-term Iowa State Senator. John Marion became the Editor of The Daily Gate City. Journalism was always his passion and he had written many newspaper articles while owning Seither & Cherry. One such article was featured in the Wall Street Journal and ultimately garnered the interest of a large national general contractor, Vogt & Conant, who then purchased Seither & Cherry since they were looking to expand into the Midwest.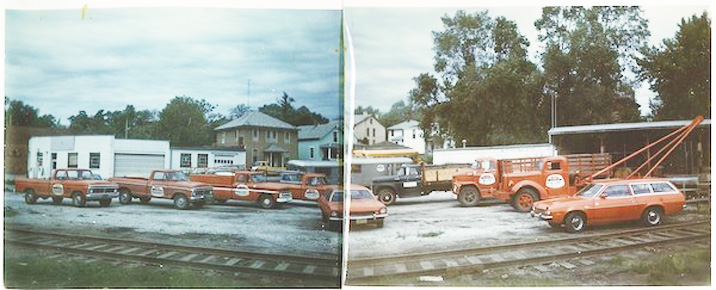 Often times when Seither & Cherry Co. employees are asked where they work, after they answer the response is always the same… "Oh, the place with the red trucks!" The tradition of the Seither & Cherry Co. signature red trucks can be traced back to the 1950s. The logo back then was similar to the current one and the fleet could be seen traveling all over the tri-state area just as it can be spotted doing now. The next time you see those red trucks, give us a honk and wave to help us celebrate 150 years in business!
$2 Bills Bring Publicity Money Can't Buy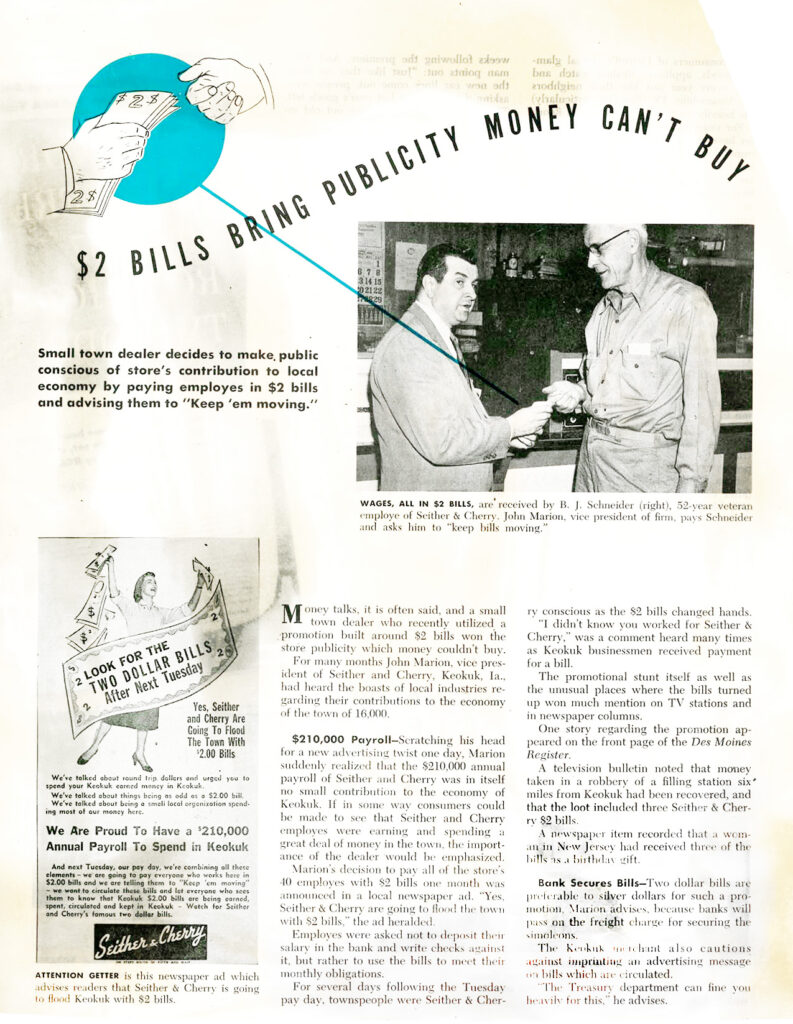 Building Over to Cure Foam Rubber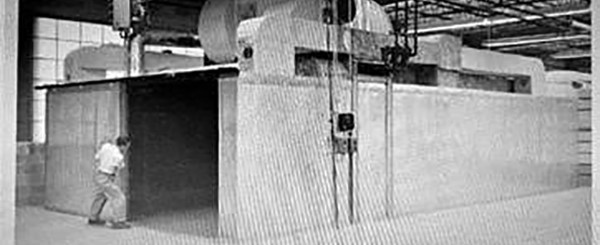 One unique and interesting part of Seither & Cherry Co.'s storied past was the building of ovens for curing foam rubber. Ovens were designed and built in sections in the back shop of 25 S. 5th Street, Keokuk, and shipped by truck to customers' plants. There they were assembled like erector sets, with every part numbered so it would go together correctly. Pictured is one of the rubber-curing ovens designed, built, and installed by Seither & Cherry Co. in the early 1960s. After only a few years into this venture, DuPont developed the additive TVI for rubber curing, resulting in polyurethane no longer needing to be cured in ovens. All of Seither & Cherry Co.'s orders were canceled. Calling themselves "technologically displaced" in the rubber curing industry, that part of the business essentially faded away and Seither & Cherry Co. transitioned into mass production of sheet metal ductwork.
Owning an Appliance Store in the 1950's

As we continue to celebrate our 150th anniversary, we remember our company's unique history over the years. We previously told you that Seither & Cherry Co. started as just a small tin shop, but did you know we owned an appliance store in the 1950s?
The store near Fifth Street and Main Avenue in Keokuk, Iowa sold TVs, washers, dryers, stoves, air conditioners, refrigerators and many other modern appliances of the day. We also serviced and installed all of our products. It was not uncommon at this time in our history for this to be the first-of-its-kind installation in a home. Qualified technicians from Seither & Cherry Co. were needed to provide the electrical wiring and other services during the installation. It only made sense for our company to sell the appliance, too! Today, you can count on qualified Seither & Cherry Co. technicians to help with many types of installations, including Structural Steel & Heavy Rigging Mechanical Systems, Electrical, Conveyor Installation, Carpentry, Industrial Concrete, and Industrial Maintenance.
Reflecting on All Past Employees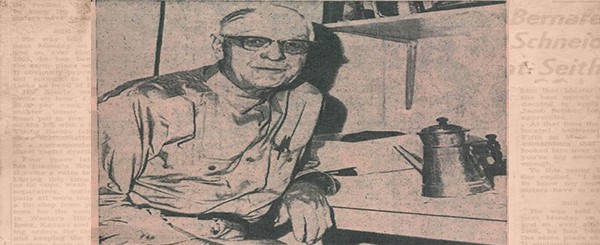 As Seither & Cherry Co. celebrates its 150th year in business, we reflect on all of the people that have helped us get to where we are today. We are grateful for all of our past employees and the nearly 150 people who work on our team today! 
One man that definitely made his mark on our company was Bernard J. Schneider. Mr. Schneider holds the title of being the employee who worked the longest for Seither & Cherry Co. It all started back in 1905 at the age of 12 when Bernard went looking for a job to help support his mom and sisters after his father died. Jacob Seither gave him a job on a trial basis for five cents per hour. It worked out and Bernard continued to work on a trial basis for 70 years!

Seither & Cherry Co. started as just a small tin shop in 1872. Back then, our tinners crafted coffee pots, lunch pails, boilers and cream separators. They even installed and serviced warm air furnaces. Flash forward a century and a half later, Seither & Cherry Co. has grown, but we still have the same work ethic and strive to provide our customers across the Midwest with excellent industrial services.